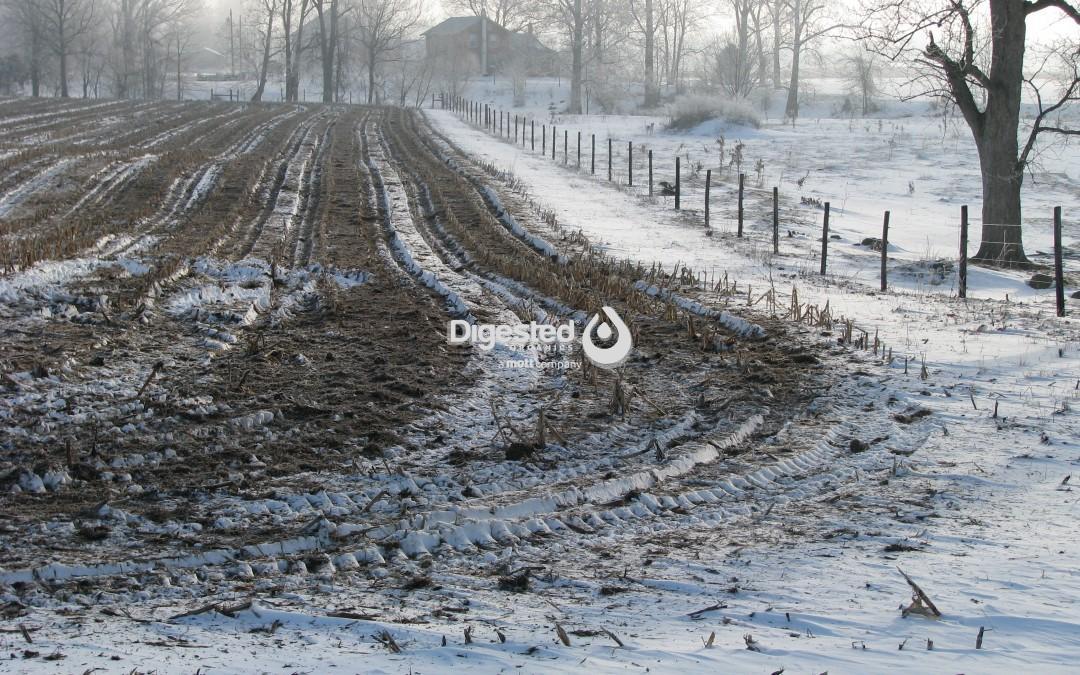 During winter, manure is applied on accessible fields or parts of fields that are available depending on weather conditions. This is known as winter manure spreading. Winter manure spreading is a practice that is intensely scrutinized and regulated because of the high risk of polluting water sources and loss of nutrients. The risk of runoff to surface water increases when manure is applied to frozen or snow-covered ground, and this runoff can spread contaminants like phosphorus and nitrates.
Typically, the greatest risk of runoff and nutrient loss occurs within 72 hours of rain or snowmelt. With climate change causing more dramatic rain events, the risk of runoff and surface water contamination is only rising.
Luckily, you can potentially avoid winter manure spreading with customized filtration technology from Digested Organics. By removing liquid from your lagoon year-round, the chance of needing to spread manure in the winter due to a full lagoon is dramatically reduced.
Digested Organics deploys a stainless steel ultrafiltration system and Two-Step Reverse Osmosis system that can dramatically reduce the volume of liquid in your lagoon as well as help concentrate nutrients for more cost effective land application. When deployed together, we call this our Nutrient Concentration & Water Reclamation System. With these filtration solutions, you can:
Reduce manure hauling and spreading costs
Reduce the risk of manure hauling spills, road deterioration, and soil compaction
Prevent groundwater contamination and reduce odors
Manage nitrogen and phosphorus levels to allow farmers to expand operations
Customize a solution to meet your site's specific needs
The systems built by Digested Organics can turn manure into clean, reusable water and concentrated fertilizer that is ready to be land applied when it makes the most sense for your crops and not when your lagoon is simply full .
Resources:
https://extension.psu.edu/the-dos-and-donts-of-winter-manure-spreading